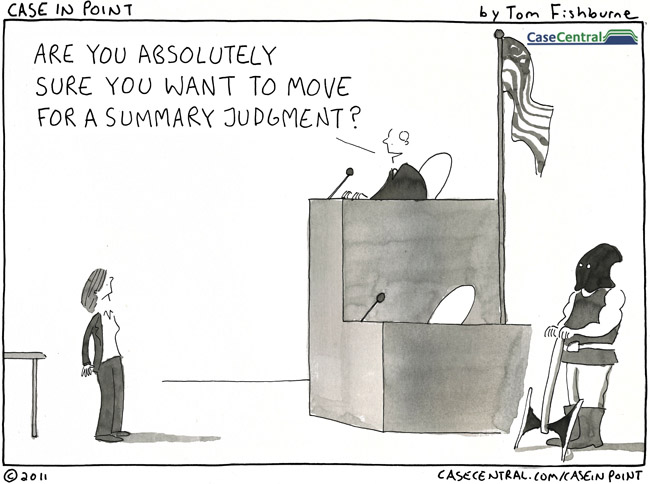 An interesting point of law (at least to me) came up at a hearing today. "Summary Judgment" (12 O.S. ?2056) is a new statute added in 2009 by House Bill 1603 ?17, also known as the "Comprehensive Lawsuit Reform Act of 2009". That Act was recently found to be unconstitutional for violating Oklahoma's ban on "logrolling" legislation. ?See my last blawg post on the Act.
Section 2056?adopts the summary judgment standard of Federal Rules of Civil Procedure Rule 56. The new statute requires that a motion for summary judgment be granted if the court finds no genuine issue as to any material fact (gone is the ?no dispute as to any material fact? standard) and that the movant is entitled to judgment as a matter of law.?If a paper or part of a paper is referred to in the movant's affidavit in support of summary judgment, a sworn or certified copy must be attached to or served with the affidavit. Section 2056 therefore limits the availability of Rule 13(c) of the Rules for District Courts where certified copies of evidentiary material are not attached to the affidavit. ?MIDFIRST BANK v. WILSON, 2013 OK CIV APP 15, 295 P.3d 1142.
In responding to a motion for summary judgment properly made and supported, an opposing party may not rely merely on allegations or denials in its own pleadings to defeat the motion. Rather, its response must, by affidavits or as otherwise permitted, set out specific facts showing a genuine issue for trial. In addition, if judgment is not issued on the whole action, the court is required to the extent practicable to determine what material facts are not genuinely at issue. The court should examine the pleadings and the evidence before it and interrogate the attorneys to make its determination of the material facts not at issue and then issue an order specifying what facts, including damages, are not genuinely at issue and such facts must be treated as established in the action. Finally, the court is permitted to enter interlocutory judgment on liability alone even if there is a genuine issue on the amount of damages.
So, after House Bill 1603 was found to be unconstitutional logrolling legislation, what is the status of 12 O.S. ?2056? Fortunately, the impact of voiding the Lawsuit Reform Act is mitigated in this instance by a new law passed since the now-defunct 2009 Act. That law is Senate Bill 940, effective November 1, 2011, which remains enforceable.