Huddleston Law Offices: Design Concept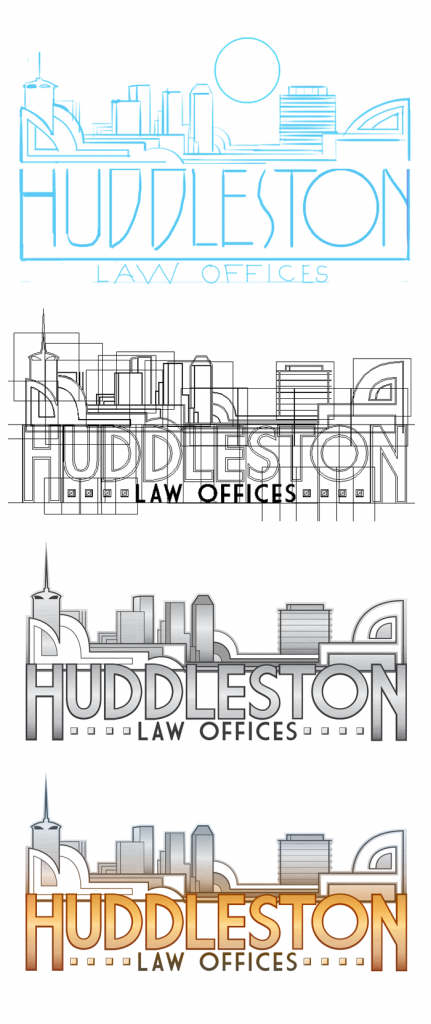 When Brian Huddleston came to us, he had a vision. (A lot of times you might think studios don't want to hear your ideas, but WE love 'em!) Brian wanted something classy, elegant and bold that tied him to Tulsa. He showed us his current logo and we loved the concept. We loved it so much, we ran with it!
We started with a rough sketch, dropped it into Illustrator, and handcrafted a vector version of this logo. After applying the brushed metal texture, we painted in the light copper tones to warm up the logo.
What's the benefit of a vector logo? Well, the biggest bonus is a scalable logo that never loses quality. It can be scaled from 1 inch wide to 100 feet wide with no loss of detail.
Speaking of detail?
The Art Deco elements tie the logo to Tulsa's rich Deco history, but the streamlined appearance and bolder, metallic color choices provide a link to the modern age. Traditionally, Art Deco is more pastel-colored in nature.
The Tulsa skyline reinforces the tie to the community and also creates a wonderful rhythm that engages the viewer and encourages them to study the logo and absorb it. Sturdy and reliable, the metal texture adds a feeling of solidity and permanence to the logo. The silver and bronze color scheme work together to create a multilayered, engaging logo that not only shifts from top to bottom, but provides a feeling of depth.
The silver/steel tone is used on the Tulsa skyline to emphasize their meaning as buildings. The silver/steel tone also serves to push the buildings back into the distance. The bronze/copper metal of "Huddleston" is bolder and warmer – even though it is placed in "front" of the other elements, the colors make "Huddleston" leap to the front of the design. It is an earthy tone that reinforces the idea that this company is down to earth.
The earth tones also help enhance the idea that Huddleston is holding Tulsa up in the logo – the lighter silver symbolizing the sky, the bronze and coppers the ground. Ground that is solid, like Huddleston Law Offices.The geometric lines, alignment and angles suggest order and attention to detail, something that is essential to practicing law. All of these elements work together to create a classy, modern and memorable logo.