The Nontestamentary Transfer of Property Act ("Act"), set forth in 58 O.S.Supp.2008, ?? 1251 – 1258, allows a record owner of an interest in real estate to designate who will receive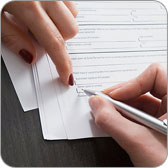 a transfer of the interest in the future, effective upon the owner's death. The transfer is accomplished by recording a Transfer-on-Death Deed ("TOD"). Interests in "minerals" 16 O.S.2001, ?? 61 – 68, constitute an interest in real estate transferable pursuant to the Act. See, OAG Opinion 2009 OK AG 6.
The TOD deed designates the person(s) who are to become the owners of the property after the owner?s death, all without a probate proceeding. Like payable on death financial accounts, the owner can change this designation any time by recording with the appropriate real estate records office a document which changes the beneficiary designation. This change does not require any consent or approval of the beneficiary. Prior to the enactment of this new law, if an owner of real estate attached someone else?s name to the ownership of real estate, that "someone else" would have an ownership interest in the property and would be entitled to a share of the sale proceeds, and that "someone else's" signature and consent would be needed in order to sell or refinance the property. Consequently, it is risky for owners to place their children?s names on the title to their home, or on any other realty they own.
The key benefit of the TOD deed is that the real estate doesn't have to go through probate court proceedings upon the death of the record owner, saving your family time and money. After the death(s) of the Grantor Owner(s), the following documents must be filed with the county recording office in which the Transfer on Death Deed was originally recorded:
A TRANSFER ON DEATH AFFIDAVIT of Identity and Survivorship, which identifies that the Grantee Beneficiary or Beneficiaries survived the deaths of all the Grantor Owners.
Certified Copies of Death Certificates for each of the Grantor Owners.
Oklahoma's law authorizing TOD deeds took effect on November 1, 2008.
The enactment of the transfer-on-death deed statute provides a low cost alternative to probate, as well as to many other problematic methods of property transfer, benefiting clients and simplifying the real property transfer system.